VACANT PROPERTY STAGING

Statistics show that staged properties sell for more money than vacant houses, some sources indicate as much as 5% to 7% more than a not-staged property.  If a house is empty, the dated elements or differed details of the house become the focal point.  In new construction, or even perfect condition homes, it can be difficult to understand the placement of furniture and the scale of the rooms.
It is not necessary to stage or furnish every room in a house, but it is important to create a place to sit and contemplate an offer.  Staging creates the 'WOW' factor that results in a positive emotional response from potential buyers.  When staging, the décor choice needs to complement the house so that it enhances the value of the property and reflects a buyer's expectation of a property in that price range.  Impact Home Staging Experts customizes every staging package and handpicks each item – from our warehouse – for the individual property.
We bundle our offerings to help the sellers get the highest return on investment (ROI)possible. Every package includes five basic rooms:  Living Room (1), Dining (1), Master Bedroom, Baths (usually all) and Kitchen.  Pricing includes professional staging expertise, furniture delivery, set up and up to three-months use of inventory.  Our packages include: furniture, accessories, art, lamps, rugs, bedding and more.
Impact Home Staging Experts offer multiple Vacant Package options:
Budget

 Package
Appropriate for entry level houses or houses marketed under $110,000.00.



Essential Package
Better furniture. Great for houses marketed from $111,000.00 to $350,000.00.  Rooms are average in size.



Essential Plus Package
Includes extra family room and extra dining (eat in) and office vignette.



Premier Package
Executive level, appropriate for houses from $350,000.00 to $550,000.00.  Rooms are average in size.  Decor selections are usually a combination of silver and some platinum offering.



Premier Plus Package
Includes Gold Package as well as extra family room space, office vignette and eat-in kitchen or snack bar- stools if appropriate.



Platinum
The highest quality décor that we offer-usually priced at 1% of asking price of house. Every platinum package is customized.



*If house has oversized rooms, we suggest an onsite review to ensure we provide appropriate decor items.  Some houses may require more than initial package offering.
**Supplemental spaces are customized as needed, for an additional fee.
Impact Home Staging Experts staged properties,  traditionally, sell quickly so our lease term is only two-months.   If you need the staging for an additional month, we will provide the third-month for FREE.  We call this our "3rd month FREE guarantee".  The extra month assists sellers in getting through the inspection and appraisal process without the added pressure of removing the staging.
Impact Home Staging Experts is always committed to your success.
Home Staging by the Book
Darla Rowley, owner of Impact Interior Design Solutions, has partnered with HSRA and Jana Uselton to co-author Home Staging by the Book. We invite you to learn from the experts!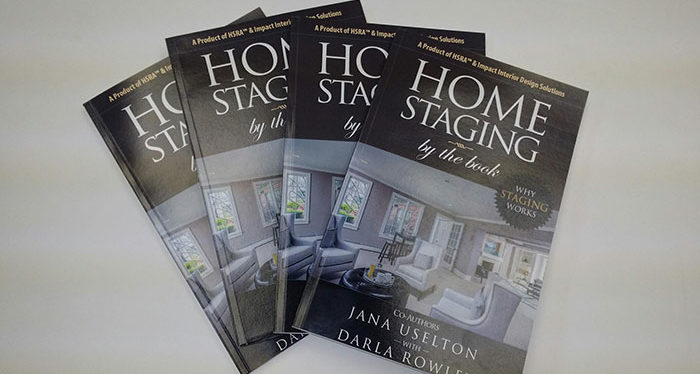 This book is a valuable tool for anyone looking to sell their home.  Home Staging by the Book helps home sellers position themselves in a proactive position by understanding the benefits of merchandising a home for sale.
Topics include:
Brief introduction about the history of staging
The 4 P's to a successful transaction
Common misconceptions or objections
Home staging concepts and principles