OCCUPIED HOMES
Services described here are a perfect fit for occupied houses.  The range of services varies from our cost effective Home Consultation ($199.00), to the 3-Hour Touch Up ($399.00) to a all hands on deck S.W.A.T service (Custom pricing).  Impact Home Staging Experts promises to help you accelerate the preparation process of readying your house for sale and ensure you do so in a cost effective way. Your success is our success!
Home Staging Consultation
Professional stager works with home seller to provide techniques and advice about how to effectively stage property in order to maximize the ultimate sales price and achieve the highest possible return on investment (ROI).  Working within the guidelines of the budget and timeframe, all décor items, updates and repairs are identified.  The client is left with a priority list that highlights the top five items to complete, a suggested floor plan layout as well as paint color recommendations. If supplemental support is needed, that can be quoted and scheduled.
3-Hour Touch Up
A 3-Hour Touch Up service is for anyone who wants, or needs, a fresh perspective in their home. Our professional merchandisers will create a WOW! factor with the items a client already has in their home. The service includes 2-stagers, for up to 3-hours, to provide hands-on support of 'priority spaces.' Stagers will work on rearranging furniture, repurposing existing decor items, hanging and rearranging art, organizing bookshelves and editing personal and decor items. Service includes up to 3-rooms. A 3-Hour Touch Up is perfect for open houses, special events, holiday preparation, getting a home market ready or for senior citizens who need an extra hand. Service does not include moving oversized furniture or packing of items. If you need to move oversized or heavy items, we can provide this service for an additional fee.
Home Staging 'SWAT' Team Service 
This service includes 2-stagers, for up to 6-hours, as well as 2-moving helpers, for up to 4-hours,  to help with heavy lifting and rearranging.  The  SWAT Team Service is ideal if a seller is not available to physically help or is out of town.  Impact stagers can pre-pack non-breakables, edit possessions and get house close to market ready, usually,  in just one day. We will provide an on-site evaluation, in advance of scheduling, to see if this service fits your needs.  Must schedule advance, onsite review to ensure this service is best for you.



Customized Occupied Staging 
Impact Interior Design Solutions, LLC will provide you with a complementary, onsite estimate.  This program is recommended for any staging job anticipated to take more than one day.



Open House 2-Hour 'Touch Up' Service 
This service is perfect for refreshing a property for an open house.  ImpactIDS, LLC will tweak design details so house is its best for showing. Seasonal flowers, cookies and bottled water for open house are included in this service.  If house cleaning "touch up" is desired we can add this as a supplement, to be quoted onsite.



Home Staging by the Book
Darla Rowley, owner of Impact Interior Design Solutions, has partnered with HSRA and Jana Uselton to co-author Home Staging by the Book. We invite you to learn from the experts!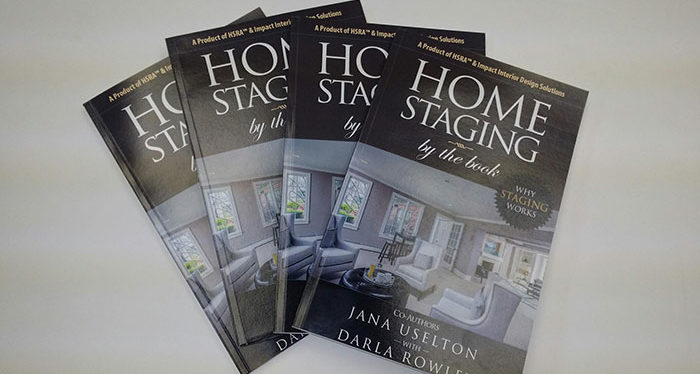 This book is a valuable tool for anyone looking to sell their home.  Home Staging by the Book helps home sellers positon themselves in a proactive position by understanding the benefits of merchandising a home for sale.
Topics include:
Brief introduction about the history of staging
The 4 P's to a successful transaction
Common misconceptions or objections
Home staging concepts and principles