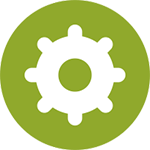 Services tailored to exceed client expectations
Home staging is the process of preparing a property for sale.  As professional stagers we take into account the demographics of the likely home buyer and tailor a décor and staging plan that will highlight the features and attributes of the house, versus the personal belongings.  It is a proactive strategy which addresses repairs and décor updates, which if not addressed may result in costly markdowns- or additional time on market. Staging is a marketing tool, similar to the way retail stores create interesting vignettes and displays to showcase their goods.
An effective staging strategy should always be combined with a market analysis to understand the positive return on investment (ROI).  As a minimum level of service, we recommend every seller to consider a 'consultation' as the entry level service.  It is an excellent tool to understand all your options, and where to prioritize your home preparation budget.  For vacant houses, we offer easy options to stage using our furniture and décor .
Impact Home Staging Experts sees a property through the buyer's eyes.   The result will be a home that looks warm, inviting and appealing to the broadest perspective of home buyers.  This will directly contribute to the property selling fast and most likely for more money. Request a staging quote