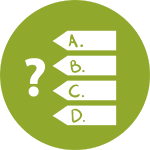 Find out if your house is market ready?

This Quiz is intended to be a critical look at your house from a buyers perspective. How you live in your house is not how you sell your house. Details you have ignored over the years will be the same things buyers notice first!
Questions below reflect condition issues that homeowners can control. Proactive sellers will realize the highest possible sales price in the shortest amount of time when the house is perceived as move in ready. Actual pricing will be recommended by the Realtor(R) based on buyers perceptions of these conditions, in conjunction with a market analysis of other properties sold. If your house does not have desirable features expected in your neighborhood, i.e.. basement, garage, or location on busy street, you should expect the asking price to reflect this reality.
Instructions: Select answers that best match your house, select one answer per question